Custom wall decals and wall graphics

Vinyl decals, logos, window letters, murals, stand-ins
Custom wall graphics, decals, logos, advertising and promotional graphics, wall lettering decals, custom wall murals, banners and signs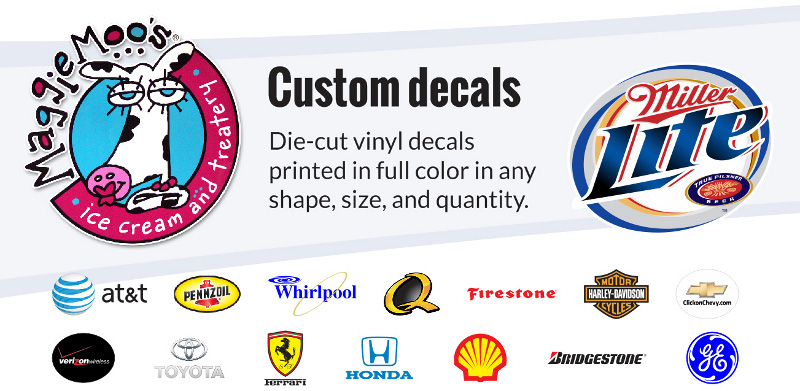 Custom wall decals, window graphics, banners & signs
Browse graphics library images below, or corporate logos here or upload your file. Use as custom wall decals, decals for custom wall and window graphics, signs, die-cut wall decals. Free design of custom wall decals, wall graphics, murals backdrops and wall decals.
Custom wall murals, wall graphics, stand ins, signs and banners
Custom wall murals and wall graphics easy to apply vinyl or fabric. Stand ins, contour cut life size decals for walls and windows signs and banners. adhesive backed ready to apply vinyl or fabric lettering decals and custom wall murals. custom digitally printed wall murals and vinyl graphics for home or office of company logo. We make self-adhesive custom wall murals, wall mural vinyl and fabric. Custom wall murals, and stand ins, of company logo on printed vinyl, fabric, signs banners, for walls and windows. Custom wall graphics wall murals, decals, signs and banners for any event. We make reusable trade show backdrop banners and wall murals. Repositionable custom wall mural fabric. Custom banners and signs for trade show and special event graphics. Custom wall and floor vinyl graphics, and decals. vinyl wall murals, life-size wall and window decals, vinyl decals for home, office or business. Contour cut letters company logos for reception office.
Turn any graphic or digital image into a decal or wall mural
Design lettering online! See your text in hundreds of fonts and colors and order die cut prespaced vinyl or fabric decals ready to apply to walls, windows, vehicles, or any smooth surface.
Custom adhesive backed wall mural fabric, wall decals and graphics for advertising and promotion. Banners, signs, wall murals, window decals with your company logo or business name. Wall decals in vinyl or fabric. Wall decals can be applied to windows, doors or delivery vehicles. Contour cut Wall decals in any shape or size. Custom wall murals, decals and stickers for decorating kids' rooms, game room entertainment centers, walls or floors, stadium or school gym floors, school classroom, wall decals, nursery or day care vinyl floor or wall decals. Online decal artwork catalog. Get decals of corporate logos and clip art images for advertising signs, windows walls and banners. Custom stand ins, photo cutout stand ins.
Custom wall murals, custom wall graphics, wall lettering and wall decals for business and home. Use our design wall lettering online to create custom lettering wall stickers and decals. Preview your text in hundreds of fonts, colors and size for your wall letter stickers. Wall murals lettering stickers are die-cut, adhesive backed vinyl with no background. Vinyl Lettering, stickers and wall murals can be applied to any flat smooth surface. Custom digitally printed wallpaper.
We can do it.
We specialize in unique and single-run projects. Let our team bring your ideas to life!